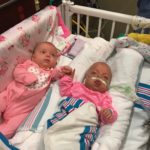 Well, it's been a long 4 months, but the girls are back together again.  Kambry got to come back home to Forrest General on Thursday and we couldn't be happier.  For the first time in since February, we've had the girls in the same place so that we could see them both together.  With Brooklynn being at home over the last month and a half, it's made our traveling back and forth to Jackson a bit more difficult and also limited the number of times we got to go up there.  All of this has been resolved with Kambry being back home now and we can take Brooklynn to see her anytime we want.
Kambry still has a bit of time to spend in the hospital before we get to bring her home, but at least now she is close to us and we get to see her daily.  We continue to pray for both of our girls daily and hope that Kambry can get better soon so that we can have them both at home.
For those of you still keeping up here, we thank you for all of your continued thoughts and prayers for our little family.