Well, the girls are officially 8 weeks old today!  Brooklynn has been doing very well the past few weeks; Kambry has improved, but still has a little ways to go.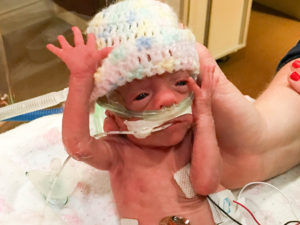 Brooklynn has been on the non-invasive vent for a little over 3 weeks now and is starting to get her voice about her.  Mom was holding her yesterday and when she got tired of it she was quick to let us know.  She is now crying!  A sound neither of us were sure we would ever hear and we are both rejoicing to hear it now!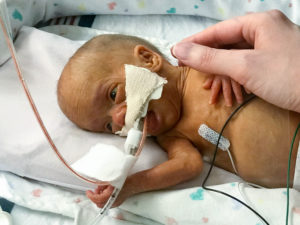 Kambry has been up and down on her vent settings, but in truth she is doing very good with all the little problems she has had over the past few weeks.  We are still monitoring her PDA each and every day; it will continue to be in her plan of care until we get her to a place where it isn't an issue.  She was not real happy when we got there Friday night to see her.  She dropped her O2 sats and her heart rate a few times in the course of an hour.  However, Saturday and Sunday she was doing very good.  They stopped her feedings Sunday afternoon and gave her a blood transfusion, but have since resumed her feedings and she is doing good today.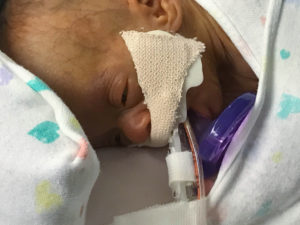 She has been enjoying her feeding times and showing it by sucking on a pacifier while feeding.  This will benefit her later when she no longer gets fed through the tube and can take a bottle as she will equate sucking on the bottle with the pacifier while feeding.  Every day is a new journey for both us and the girls.  With each new day we get another blessing, another miracle, and just realize that much more how much your prayers and thoughts are doing for our little family right now.  We thank you all and love you all so very much!  We hope that you will continue to keep us in your thoughts and prayers, and we will continue to tell the girls story and post pictures and updates.