Brooklynn has been very busy this past week. She is now 2 lbs 5 oz.  She has had lots of cuddle time with mom and dad. She is awake and aware of her surroundings more and more. Her eyes are so wide and take in everything around her. Friday made 2 weeks that she has been on the non-invasive nasal cannula. We were prepared for her to only be on this for a short time before she got tired or her lungs needed more help, but the girl proved us wrong! She is still going strong.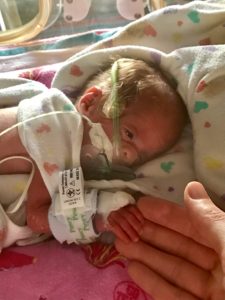 We had a small scare last week when her doctor thought there may be an infection somewhere. After several tests, it was determined that she just needed a blood transfusion. They decided to stop feeds for a couple of days and let her belly rest. She started feedings again yesterday and is doing well. Even with all of that going on, she was able to stay on the nasal cannula.
Sister got her first bath last night. Her nurses sent us pictures and it was quite apparent that she was not at all happy about them caring for her in such a way. She has quite the personality already, and doesn't mind letting you know if she is unhappy. It is such a blessing to have nurses that care for her so well and that take the time to share these moments with us.
We continue to pray that very soon Kambry and Brooklynn will be rejoined. Kambry is doing really well in Jackson. She is up to 12 cc's of milk every 3 hours! This is huge for her, the most she has ever gotten.  Hopefully, this is helping to make her stronger and soon she will be on a nasal cannula like her sister. I spent a few hours wth her yesterday. She smiles at the nurses and keeps them on their toes.
It is so tough having them separated and even worse not being able to see Kambry every day. We covet your prayers and thank God daily for all our prayer warriors. These girls are a testimony to answered prayers!!